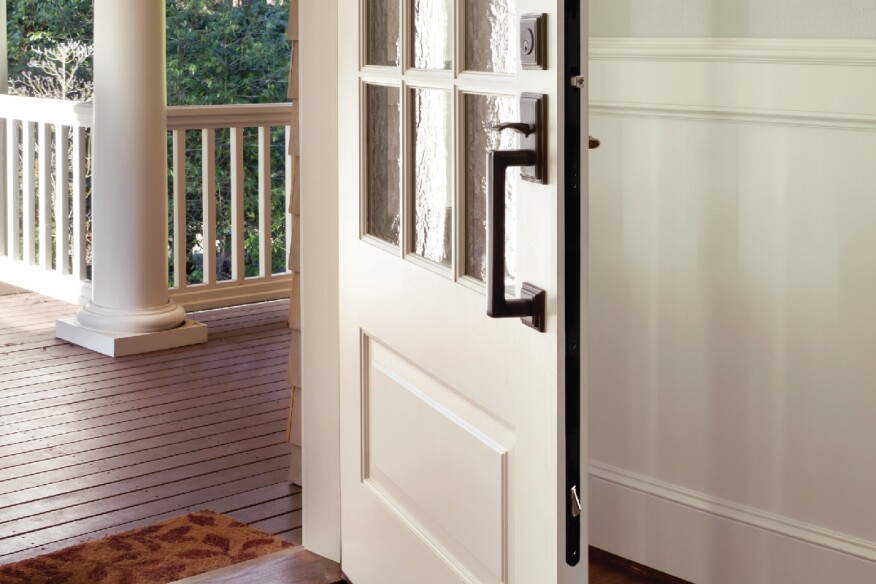 There are few things that command more curbside interest than an entry door.
Small wonder, then, why so much thought often goes into exterior door size, style, and color. Think of the Zillow report that concluded a black or charcoal gray exterior door earns a $6,000-plus sales bump. Or why 96-inch (8-foot) doors are an increasingly common sight. A grand entrance creates a lasting home buyer impression.
The impact also can put extra focus on the security and performance of the door and the locking system. What's best? Single-point or multi-point? It's tough to argue against a number of hooks or bolts engaging in unison. A triple dose of safety, security, and weather sealing action can be a compelling marketing differentiator, especially for high-performance and passive house builders.
Matt Risinger's Experience
Matt Risinger knows all about that difference. The Texas-based home builder is nationally recognized for his expertise in building science and high-performance construction. His popular YouTube channel, Build Show Network, now counts nearly a million subscribers.
He received an up-close and personal lesson in multi-point locking value on his personal home where he used a PanoLock, an innovative new entry in the field of multipoint locks.
"I built my house to passive house standards," explains the veteran contractor. "I was considering spending $6,000 on a passive house-certified door. I ended up saving about $5,000 by purchasing a $750 standard door outfitted with a multi-point locking system. The blower door test results are pretty darn close to passive house standards."
Risinger knows old multi-point technology didn't win many accolades. "For many years the builders I worked for avoided multi-point locks. Too many callbacks and hassles, along with limited hardware and high costs," he recalls.
What's changed? For Risinger, just about everything for next-gen multi-point locks. He identifies four game-changing advances:
1. Consistent, High-Performance Engagement and Weather Sealing
"The big selling point for me is the way the lock works, particularly the bolts and the strikes. The shark-tooth-shaped bolts engage strikes that have rollers on them. The bolts are tapered, and they pull the door exceptionally tight against the frame," he reports.
2. 100% Compatibility With the 6 Top Hardware Makers
Gone are the days of hardware selection frustration. New multi-point lock technology now plays very nice with off-the-shelf hardware from Schlage, Kwikset, Gatehouse, Baldwin, Brinks, and Defiant. "Matching hardware throughout the house on all the doors has been almost impossible previously when a Multi-point lock has been used" says Risinger.
3. Forgiving, Callback-Eliminating Operation
"It's tough to get a door perfectly plumb," Risinger says. "There are all kinds of builder tricks to try to correct for fit and operation. The new system works well with door openings that aren't quite right. It's very forgiving," Risinger explains.
4. Breakthrough Pricing
Cost has come way down. "This is serious engineering wizardry," Risinger says in describing a price point and technical innovation that might surprise home builders and specialty contractors.
The locking system that earns Risinger's thumbs-up is the PanoLock Multi-Point Locking System from Endura. "The fact I can transform an ordinary exterior door to one with passive house-grade performance is huge," he observes. "Regional and national builders looking to reduce warranty time and custom builders looking to gain an extra edge are going to appreciate PanoLock."
Home buyers now have an affordable solution for triple-lock security and weather sealing comfort.
Learn more about how next-generation PanoLock Multi-Point Locking System can differentiate your properties with unprecedented value, performance, and reliability.