With technology playing an ever-expanding role in the home, window and door makers are incorporating more of it into their products. From smartphone-enabled door locks to LiftMaster's 8550W Elite Series garage door opener—the first to include Wi-Fi—homeowners have more smart offerings to choose from than ever before.
Consumers also want their windows and doors to look good, and new designs are expanding options in every area of the home. Doors that help open a room to the outdoors are especially in demand. For example, Weather Shield has introduced a bi-fold patio door that's available in myriad options that each create striking entryways into adjoining interior spaces, and Kolbe's Ultra Series TerraSpan Lift and Slide doors provide especially large openings up to 6 feet wide and 12 feet high that can transform any room into a vibrant indoor–outdoor gathering space.
Below, BUILDER selected products that meet consumer demand for windows and doors.
Velux
The Velux Active home automation system gives homeowners additional control over their new or existing Velux Skylights and helps ensure a healthier indoor climate, the maker says. Developed in conjunction with Netatmo technology, Velux Active automatically ventilates two to three times daily to remove stale air. Plus, smart sensor technology monitors CO2, humidity levels, and temperature in the home and will open the skylight automatically if fresh air is needed. The system also proactively opens or closes based on local weather forecasts. Velux Active is operated by a smartphone app and integrates with Apple HomeKit. Users can also use voice activation to control the system through smart speaker technology. velux.com
Pella Corp.
Nine new exterior colors have been added to Pella Windows and Doors' 250 Series and 350 Series vinyl windows and patio doors. DuraColor tan, poplar white, fossil, Hartford green, morning sky gray, black, brick red, and portobello are available in addition to the existing color options. Every color selection consists of a white interior and colored exterior, except white and almond, which are available for both interior and exterior surfaces. Pella says its paint process provides fade resistance in any climate. pella.com
Kwikset
Kwikset has introduced Prismo, the first doorknob to join its Contemporary collection. The smooth, cylindrical knob is available with either a square or round rose in a variety of finishes: Venetian bronze, satin nickel, polished chrome, satin chrome, and iron black. It can be paired with other deadbolts in the Contemporary collection. Prismo is available as a keyed-entry knob with SmartKey Security technology that provides strong resistance against forced entry and prevents lock bumping, the firm says. kwikset.com
Delaney Hardware
The company's new Smart Lock can be locked and unlocked from anywhere though a smartphone app, will send the owner an alert when opened, and has a heat and smoke sensor. The Smart Lock also features a camera that can take pictures or video and gives owners the ability to have a two-way conversation with someone at the door. The lock has three entry methods: smartphone app, touchscreen, and key. It can hold up to six unique user codes and one master code and automatically locks after being idle for up to 99 seconds. delaneyhardware.com
Haas Door
Haas Door is offering more woodgrain options in its Stucco Embossed bi-directional door line including English oak, mahogany, and ash. These garage doors replicate the appearance of real wood without the maintenance hassles, the company says. The three new woodgrains are built with 26-gauge galvanized steel and the pre-painted woodgrain finish is baked on to ensure a strong and long-lasting door. The doors are available with the manufacturer's 2000, 700, and 600 series doors. haasdoor.com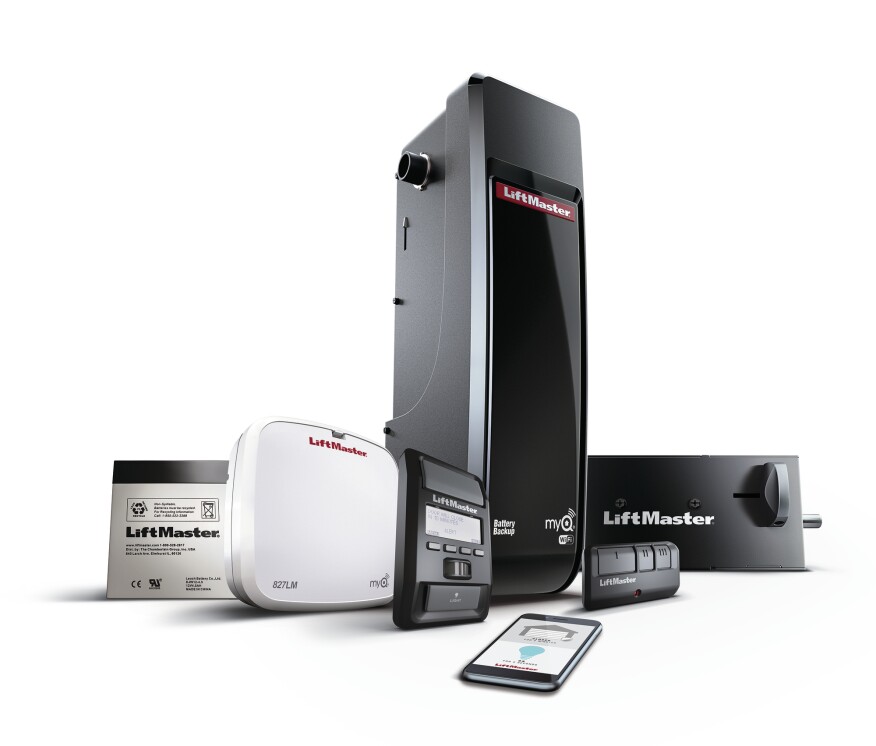 LiftMaster
The first Wi-Fi–enabled garage door opener, LiftMaster's 8500W Elite Series includes MyQ technology that lets owners open, close, or check their garage door remotely. A deadbolt locks the garage door, making it virtually impenetrable and a timer-to-close function can be programmed to close the door after a set amount of time. The opener also features a motion detector that lights the way automatically and an invisible light beam that auto-reverses the door if there is an obstruction. liftmaster.com
Jeld-Wen
DesignGlide Barn Door Hardware can be installed in any standard-sized interior door frame in just a few steps to convert a standard door into a barn door—with no reframing or custom doors required, the firm says. Playing off of the popular farmhouse-look trend, DesignGlide features a soft close and includes accent rails that attach to the top and bottom of a standard interior door. Sliding doors save space in tight layouts, the company adds. jeld-wen.com
Western Window Systems
With the aim of delivering increased energy efficiency and strength in a variety of weather conditions, Western Window Systems has introduced hinged windows and a fixed window to its Series 7000 performance family of aluminum windows and moving glass walls. The new window line features low U-values and glass from Cardinal Glass. Series 7000 hinged windows—casements, awnings, and hoppers—offer all-new hardware for a sleeker hinge profile. The performance glass options include laminated glass, solar- and glare-control glass, enhanced winter-performance glass, and Neat low-maintenance glass from Cardinal. westernwindowsystems.com
Inox
The Privacy Barn Door Lock aims to eliminate the need for exterior locking hardware, as it installs inside the door jamb and not on the door itself. Most other locking options for barn doors are limited to hooks, chains, or other exterior hardware. The locking mechanism features a 1-inch bolt, which is activated by a thumb turn from the inside of the room. A variety of thumb turns are available, including ADA-compliant turns. The lock is available in six finishes. inoxlock.com
Weather Shield
Weather Shield's Bi-Fold Patio Doors offer plenty of options for opening living spaces to the outdoors and create striking entryways into adjoining interior spaces. New sill offerings include the company's standard performance sill, intermediate sill, U-channel sill, and ADA sill. Traditional and contemporary door panels are also available, including a 3¼-inch contemporary panel profile, enabling constant sightlines that maximize the viewing area. weathershield.com
Therma-Tru
Boasting a sleek, cubic texture and a unique multidimensional view with ever-changing perspectives, Geometric is Therma-Tru's first glass design to feature texture on both sides of the glass panel. This provides an intriguing look that is highly engaging for homeowners and visitors. The texture is ideal for contemporary and modern home styles, according to the company, and Geometric glass pairs perfectly with the company's Pulse flat profile lite frames, offering the ultimate modern appeal. It's available in a wide range of glass shapes and sizes—including 6-foot-6-inch, 6-foot-8-inch, 7-foot and 8-foot doors and sidelites—to fit a variety of openings and bring more natural light into the home. thermatru.com
Hy-Lite
The Hy-Lite Home Designer collection includes four privacy glass designs; Mission has Craftsman-inspired diamond shapes, Metro is inspired by modern architecture, Prairie offers simple elegance, and Baroque is inspired by classic tile. Frame options include white, tan, driftwood, and bronze. Mission (shown) features elements of historic and modern-day Craftsman home architecture. It's constructed with silkscreened tempered privacy glass and clear diamond shapes on the interior, and has textured privacy glass on the exterior. Beginning this year, the Mission window is now available in a 2-inch-square size, to complement existing size offerings. hy-lite.com
Kolbe
Kolbe's Ultra Series TerraSpan Lift and Slide doors are designed for especially large openings. The doors can incorporate up to 10 panels per unit with a maximum panel dimension of 6 feet wide and 12 feet high. TerraSpan units feature architecturally correct coped corners, ADA-compliant bottom panel rails, energy-efficient glass and sill options, and a choice of screens, hardware, finishes, exterior colors, and interior wood species.
The door's panels lift off the sill to glide smoothly, the firm says, and can pocket into a wall or stack together. They can be arranged in more than 900 operational configurations, including 90-degree corner units. kolbewindows.com
Marvin Windows and Doors
One of the newest additions to Marvin's Contemporary Studio line is the Contemporary Direct Glaze Corner Window. Its narrow jamb depth of 2 3/16 inches makes for a clean and uncluttered corner window that sits flush to a home's exterior. The window maximizes views with sizes up to 84 inches by 120 inches in vertical or horizontal orientations. marvin.com
NanaWall Systems
NanaWall Systems says it has come out with the industry's first individual panel shade solution, specifically designed for its aluminum, wood, and frameless glass walls. NanaWall Shades are custom fitted to each window panel to provide control of sun exposure and privacy, and they work with any new or existing NanaWall glass wall system. The shades come in transparent, semi-transparent, or room-darkening shade fabrics in a matte finish of white aluminum, jet black, traffic white, or gray brown. nanawall.com
Ply Gem
Thermally insulated and impact-resistant, Ply Gem's 4880 Patio Door is available in two-, three-, and four-panel sliding and pocket configurations, with sliding multi-panel openings up to 8 feet high by 16 feet wide. The pocket-style door recesses into the wall for unrestricted access between indoors and outdoors. The door can be upgraded with an automated operating system that allows homeowners to control it from anywhere with the included remote or the DreamView app for smartphones. plygem.com
MI Windows and Doors
The 100 Series sliding glass doors allow homeowners to blend interior and exterior spaces. The 100 Series features an advanced roller system, the panels slide smoothly during operation and with an optional extended sill leg, and the door meets DP55 requirements. 100 Series doors are also available with the StormArmor impact-resistant product enhancement for storm-prone coastal applications. Available in white, bronze, and clay with raised pull handles, the 100 Series door rounds out the maker's StormArmor line of products. miwindows.com
Sierra Pacific Windows
The FeelSafe Bi-fold Door is part of the company's H3 FeelSafe line and provides large, expansive openings for indoor/outdoor living. Sierra Pacific's patented Fusion Technology integrates extruded aluminum, vinyl, and solid wood into one window, resulting in improved energy efficiency and performance, noticeably enhanced aesthetics, an extreme seal, and easier installation. The door features an innovative snap-lock design which leaves no unsightly screws or fasteners on its interior. sierrapacificwindows.com
Johnson Hardware
Johnson Hardware has introduced 200WG wall-mount sliding-glass-door hardware to support single or converging barn-door arrangements. Complementary to open floor plans, the barn-door hardware subdivides spaces while promoting natural lighting. The hardware can accept 1/2-inch glass door panels up to 400 pounds and 4 feet wide. The extruded aluminum I-beam track is available in 4- to 16-foot lengths. Extruded mounting brackets anchor into wall studs, while ball-bearing hangers carry heavy doors smoothly along the track. johnsonhardware.com