An uptick in renovations nationwide is likely to provide a positive shock to the siding and exterior trim market, as many homeowners are choosing not to move as home prices rise. The desire to renovate coupled with aging existing siding and trim will drive continued growth in the market.
Last year, Principia Consulting estimated that, nationwide, the average age of siding at replacement was 16.1 years—much lower than it has been in recent years. Among high-value homes—those valued at $450,000 and above—the average replacement age of siding was 13.4 years. Lower replacement ages could have a positive impact on the yearly demand for siding and trim products. In addition to age of the current siding, many high-value homeowners are choosing to replace their siding because of a desire to change aesthetics or to upgrade existing products.
"Some of these other discretionary items [such as aesthetics or upgrades], those are the ones that are appealing to manufacturers, because homeowners choose to replace 3 to 5 years sooner [for those reasons] than if they were replacing for just age," said Casey Olson, an industry analyst at Principia Consulting.
The Importance of Style, Maintenance, and Durability
Consistent with trends from recent years, consumers prefer siding and trim products that are both low maintenance and aesthetically appealing. Manufacturers are meeting this demand in several ways: With a greater variety of color, texture, and mixed profile options and with products that offer high-quality water drainage, wind durability, and color-fade resistance.
"Durability is increasingly becoming a factor to [homeowners] too," according to Kara Radcliffe, director of vinyl siding product management at CertainTeed.
As style becomes increasingly important to homeowners, they are becoming more interested in customizing the look of their home, either by installing colorful siding and trim or by creating a unique look with patterns and textures.
"Homeowners are interested in adding unique character to their homes to make it their own," says Marc Setty, director of marketing at James Hardie. To that end, he adds, "We are seeing interest in reverse board and batten and modern farmhouse styles."
In terms of colors, pastel shades are fading out and darker colors such as gray and black are on the rise, which homeowners are using to achieve modern-looking exteriors. Continued improvement in infrared reflective pigments and paints are paving the way for even darker colors, according to Shawn Hardy, senior vice president and general manager at Alside. There is also a greater demand for contrasting exterior colors, with manufacturers providing extensive color options for builders and homeowners to choose from.
CertainTeed offers a range of color match options from Sherwin-Williams' VinylSafe paint line and recently expanded its color options to its Cedar Impressions Polymer and Northwoods Vinyl siding lines. Alside recently launched its Explorer Collection, a suite of seven siding and trim accessory colors. James Hardie currently offers 15 Statement Collection colors and more than 700 ColorPlus Technology finishes that are made to order in many of the manufacturer's fiber cement siding and trim collections. Ply Gem has developed Mastic SolarDefense Reflective Technology with 10 new colors to provide UV protection backed by the manufacturer's no fade, no distortion promise.
Vinyl siding is particularly appealing to homeowners because it can be provided in a variety of colors, profile options, and textures. Color palette enhancements in vinyl siding have helped the material provide more curb appeal and have helped differentiate homes without having to add the cost of hard board panels like fiber cement of engineered wood, according to Hardy.
Vinyl manufacturers are also upgrading the durability of products to compete against sturdier materials. New vinyl products have longer lengths, thicker gauges, locking systems, and deeper profiles to add structural strength against wind damage. Ply Gem rebranded its premium Cellwood products as its Performance Collection, emphasizing the product's durability and low maintenance. The manufacturer's Mastic Western Extreme vinyl siding combats the high altitude and extreme temperature changes of the mountain region. Royal Building Products introduced an economy Elm Grove vinyl line at a lower price point with deeper profiles, UV resistance, stronger nail hems, and raised wood grain.
In addition to the popularity of vinyl, mineral composites are growing in demand because of their low maintenance requirements and the materials' strong fade and water resistance, according to Mark Lipsius, business development manager at Chelsea Building Products. Chelsea's mineral composite product, Everlast Advanced Composite siding, has a thick solid core that does not need to be painted. The product is also water resistant and offers a simple installation process for builders and remodelers, according to the company.
James Hardie's fiber cement siding and trim options are specifically engineered to withstand damage from moisture, rot, and seasonal weather. Setty said Hardie's fiber cement products offer weather resistance advantages over vinyl, which becomes prone to cracking in the cold, and wood, which expands and contracts with changes in humidity. The company will launch its Artisan Shingle in 2019, a fiber cement product in its Aspyre Collection that is "engineered for climate," being resistant to wet, freezing, and high heat conditions.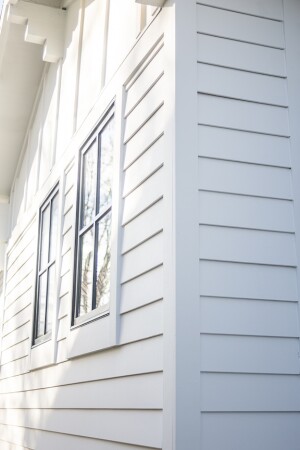 Engineered wood, another alternative to vinyl, offers greater durability than many natural products and comes at a lower price point than wood. The material is among the strongest growing segments in both the siding and trim markets. LP Building Solutions' latest engineered wood product, LP SmartSide Smooth Trim & Siding, meets curb appeal desires of homeowners while also providing a durable product. The product offers the appearance of traditional wood and the durability of treated wood, while also being resistant to pests and extreme weather.
The PVC trim market, traditionally positioned as a high-end, upsell product, has been experiencing steady growth as well. Homeowners, remodelers, and builders are recognizing the long-term benefits of PVC's durability. New colors and finishes in PVC trim eliminate the need for painting.
"The long-term maintenance-free benefits of PVC are more appealing and justify the higher upfront cost of these materials," says Matt Rapposelli, product manager of PVC Trim for CertainTeed.
Trends in the trim market continue to focus on texture. Cellular PVC trim with wood grain finishes are becoming popular for East Coast builders, "drawing inspiration from the modern farmhouse trend and an increase in the use of multiple materials such as vinyl shakes and shingles and stone veneer," Blais says.
Builders and contractors also favor low-maintenance products, but additionally focus on ease of installation amid the labor shortage and strong warranties. In response, several manufacturers have added elements to their product offerings that increase the ease with which they can be installed.
CertainTeed has added proprietary features, such as its STUDfinder and HammerTrapper, to ensure panels are properly and easily installed and to enable lateral adjustment during installation. The manufacturer's Cedar Impressions line also offers a PanelThermometer, which displays panel temperature to ensure precise installations. Chelsea Building Products' Everlast line can be installed easily because of the product's EZStack design, which ensures each panel sets firmly on the one below without the need for special installation tools.
Market Growth Expected to Remain Steady
The market for siding and exterior trim has experienced healthy growth during the past decade, and industry experts expect this trend to continue through 2022. Principia Consulting projects siding demand will grow at an annual rate of 3% for the next three years, with Cleveland-based research organization The Freedonia Group projecting 2.8% annual growth through 2022.
Materials with a smaller share of the market will experience larger relative growth compared to materials that already command a large segment of the market. Polymer composite siding, a relatively small component of the current market, is projected to have large relative growth over the next three years, according to Principia Consulting. Materials with larger shares of the market, such as vinyl, fiber cement, and engineered wood, are also projected to experience solid growth.
According to the U.S. Census Bureau's most recent data, from 2017, vinyl siding was the most popular primary type of exterior wall material in new homes. The data suggests 27% of new homes built in 2017 used vinyl siding as the primary exterior material. Stucco, traditionally popular in the western and southern regions, was used in 24% of new construction homes, and brick was used in 22% of new homes.
"The millennial generation is driving the trend toward vinyl, polymer, and PVC because they tend to favor a smaller environmental footprint, and there is a case to be made for the sustainability of products that go on your house and last essentially a lifetime," Radcliffe says.
While preferences are increasingly shifting toward materials with small environmental footprints, Olson says the siding and trim market moves "pretty slowly."
"It's unusual that you see something that happens in one year," Olson says. "It's usually multiyear trends. They aren't new trends [what we're seeing in the market], but the trends are continuing."