As the housing industry gains strength and manufacturers continue to roll out a variety of new products, 2014 could be a very busy year for decking and railing retailers. Market research company Principia predicts annual growth rates of 4% through 2015, with overall demand for decking and railing climbing to $4.1 billion.
The positive signs for the housing industry, according to Hanley Wood chief economist Jonathan Smoke, include an increase in new-home sales and a rise in remodeling activity, a drop in foreclosures and distressed-property sales, rising home prices, and a trend toward larger houses.
"A key trend of the recovery is that new construction is moving to higher price points, bigger homes, and higher-quality materials, reflecting the older and more upscale buyers who represent the majority of the forecasted future demand," Smoke says. "I can't speak to specific decking product types, but I would say this: This trend should result in more premium products in decking and likely more focus on outdoor living as well."
George Gehringer, owner and creative director of Metaphor, a research and consulting company, agrees that the marketplace is changing as more homeowners consider decks as outdoor spaces that should be coordinated with other building materials. "There's this real trend in building the outdoor room," he says. "It's no longer, 'I have a deck, I have a patio.' There's a whole new consciousness emerging, and lumberyards, in particular, really need to know about this and understand it. There are going to be new ways to market to these customers that they need to start grasping onto."
And there will be new products to market, as manufacturers develop more products in response to the outdoor living trend: more capped wood-plastic composites, which offer many of the same performance advantages as cellular PVC but at a lower price; new types of wood decking; and a growing list of green-decking choices.
If there's a downside, it's that retailers' and wholesalers' jobs won't get any easier as the number of SKUs they could potentially stock increases and becomes more unwieldy.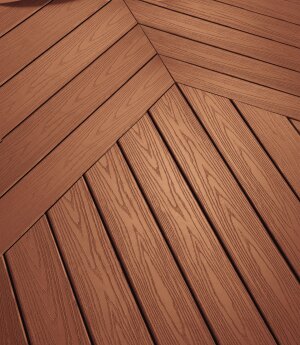 More Capped Composites
The first wood-plastic composites combined recycled polyethylene and wood flour and were a shot in the arm for the decking industry when they were introduced 20 years ago. But a discouraging number of first-generation composites had performance problems, particularly mold growth, because of their cellulose content.
Decking made from cellular polyvinyl chloride fixed that by eliminating cellulose from the mix, but the decking was more expensive. In time, manufacturers found an attractive middle ground by wrapping conventional wood-plastic composites with another plastic, a protective cap. The cap improved scratch and stain resistance while protecting the composite boards from water, and capped composites were less expensive to manufacture than all-vinyl decking because the raw ingredients were less costly.
Trex, the company that invented wood-plastic composites, is phasing out its uncapped line, called Accents, in 2014. And a number of panelists at Principia's Composite Decking and Railing Conference in 2013 said that they expect a steady decline in market share for uncapped composites over the next few years.
"To me, capped composites should rule the world," says John Dainger­field, a buyer for Jaeger Lumber, a seven-store, family-owned chain in central New Jersey. "It's moving more that way year after year, but the past sins of the industry, where people still don't trust the new stuff, is making it take a lot longer than it should."
Sales of conventional wood-plastic composites at Jaeger were flat in 2013, while cellular PVC decking increased by 45% over 2012, and capped composites were up 55%. At National Lumber, the largest independent lumberyard in New England, exterior products manager Kevin Costa says that capped composites have grown from 3% of sales last year to 6% this year and are headed for double-digit numbers next year.
There are going to be new ways to market to these [deck product] customers that [dealers] need to start grasping onto. —George Gehringer, owner, Metaphor
Jaeger and others in the industry are convinced that capped composites will be a dominant player. But few think that basic uncapped composites will completely disappear. At the right price, uncapped composites are more likely to draw some homeowners toward synthetic decking and away from the more conventional choice of pressure-treated pine.
"There's a bit of a race to the bottom when it comes to composite decking," says Chris McCarthy, sales manager for Atlantic Forest Products, a Baltimore-based wholesaler. "I think some manufacturers are going to use the uncapped to get their way down to the bottom."
McCarthy says that Fiberon, for example, will eliminate its mid-grade Pro Series uncapped composite but will keep its low-priced Classic line in an effort to reel in more buyers. One motivator for the move away from uncapped composites are the past lawsuits and claims against producers.