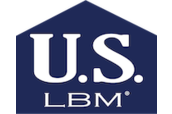 Specialty building materials distributor US LBM opened a new Universal Supply location in Paterson, N.J. The greenfield location marks US LBM's second roofing and siding focused location to open in 2021 and the 12th since 2018.
"The new Paterson location, in combination with our existing divisions and recently opened roofing and siding location in Newark, N.J., provides area construction professionals with a full line of the industry's premier roofing and siding brands, and is backed by a leading network of building product distributors and category experts," US LBM chief development officer and Universal Supply president Jeff Umosella said in a prepared statement.
Universal Supply has been providing builders in New Jersey with top brands of specialty building products, including roofing and siding, since 1965, according to a news release. US LBM's building materials distributors in the region also include Feldman Lumber and Direct Cabinet Sales. The Paterson Universal Supply location is minutes away from Exit 159 on the Garden State Parkway, providing convenient access and quick delivery to building professionals across northern New Jersey and the New York City suburbs, according to US LBM.
The Universal Supply division has 22 locations across Maryland, New Jersey, Pennsylvania, Connecticut, and now Delaware. The brand opened greenfield locations in Kimberton, Pa., in 2019, Yeadon, Pa. in 2020, and New Castle, Del. in February 2021.
The greenfield opening follows a busy pattern of acquisitions at US LBM. In addition to the greenfield openings in New Castle, Del. and Paterson, N.J., the distributor acquired Gilcrest/Jewett in January, Jennings Builders Supply & Hardware, Tri-County Building Supplies, and Ridgefield Supply Company in December and Zeeland Lumber, the 48th largest firm on the 2020 ProSales 100 list, in November. Also in November, US LBM signed a definitive agreement to be acquired by Bain Capital Private Equity.
Buffalo Grove, Ill.-based US LBM ranked 6th on the 2020 ProSales 100 and operates more than 250 locations across the United States. The distributor offers a portfolio of specialty products, including windows, doors, millwork, wallboard, roofing, siding, engineered components, and cabinetry.