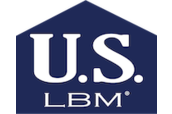 The US LBM Foundation, a nonprofit organization founded by specialty building materials distributor US LBM, committed $100,000 to the Gary Sinise Foundation's R.I.S.E. (Restoring Independence, Supporting Empowerment) Program, which builds mortgage-free, specially adapted smart homes for the nation's most severely wounded veterans.
"The work of the Gary Sinise Foundation aligns with two important focus areas of the US LBM Foundation: honoring our veterans and providing housing to those in need," US LBM Foundation chairman and US LBM president and CEO L.T. Gibson said in a news release. "It is our honor to partner with such a worthwhile organization and to contribute funds and discounted building materials toward building homes for our wounded heroes."
Through the R.I.S.E. program, the US LBM Foundation is supporting the construction of three projects and providing discounted building materials through US LBM's network of suppliers. The projects include: a home in Clarksville, Tenn., for wounded U.S. Army Sgt. Christopher Kurtz, a home in Tampa, Fla., for U.S. Army Chief Warrant Officer 3 Romulo Camargo, and a home in San Antonio, Texas, for wounded U.S. Army Staff Sgt. Jason Tabansky.
The US LBM Foundation also contributed to two 2020 R.I.S.E. projects, a home in Miramar, Fla., for wounded U.S. Air Force Staff Sgt. Brian Schiefer and a house built in Houston for wounded U.S. Army Staff Sgt. Jay Fondren
The US LBM Foundation has donated more than $175,000 to multiple veteran organizations that provide housing to wounded veterans over the past two years.
The US LBM Foundation has donated nearly $1 million to charitable organizations since its inception in 2013. Buffalo Grove, Ill.-based distributor US LBM offers a comprehensive portfolio of specialty products, including windows, doors, millwork, wallboard, roofing, siding, engineered components, and cabinetry.