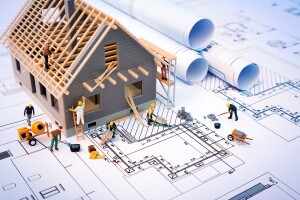 June 21
Bliffert Lumber & Hardware is hosting a grand re-opening for its recently renovated Germantown, Wis., location.
Ambassador Supply acquired Straight Line Metal Buildings, a Brookshire, Texas-based company that manufactures and installs pre-engineered metal buildings.
Parksite is expanding its partnership with Tando Composites to distribute the TandoStone product line within their Maryland and North Carolina distribution markets.
BlueLinx Holdings and Louisiana-Pacific Corporation expanded their existing distribution partnership. The move expands BlueLinx's stocking footprint of LP SmartSide to 11 locations.
Sleep in Heavenly Peace, a nonprofit dedicated to building and delivering beds to children in need, partnered with KB Home and Simpson Strong-Tie to build 100 beds for underserved families in Phoenix.
LP Building Solutions announced that LP Legacy Premium Sub-Floor Adhesive, LP Legacy Sub-Floor Adhesive Applicator, LP Legacy Polyurethane Foam Cleaner, LP WeatherLogic Seam & Flashing Tape, and LP WeatherLogic Seam & Flashing Sealant will soon be available on Amazon.com.
Valley City, N.D.-based Smith Lumber Company celebrated its 100th business anniversary. Roseburg will permanently end operations at its Taylorsville, Miss., particleboard plant on August 21.
June 14
Bosch Power Tools announced further expansion of its manufacturing in North America through a planned $130 million expansion of its site in Lincolnton, N.C.
Gulfeagle Supply announced its newest branch in Cincinnati, Ohio.
Kodiak Building Partners announced Barton Supply is celebrating its 50th business anniversary.
ProSource Wholesale recently raised a total of $153,000 to support the Tarrant Area Food Bank in Weatherford, Texas.
White Cap L.P. finalized a deal to acquire all the assets of Tri-Boro Construction Supplies.
Huber Engineered Woods announced it plans to build a new oriented strand board facility in Noxubee County, Miss.
RW Specialties LLC renamed itself RW America after merging with American Building Products.
FastenMaster, a division of OMG, is celebrating 25 years of business.
Cameron Ashley Building Products announced an exclusive distribution partnership with TimberHP, a dry-process wood fiber insulation manufacturer.
Benjamin Obdyke is transitioning to an Employee Stock Ownership Plan (ESOP).
June 7
Cosentino is extending its partnership with Taylor Morrison and will serve as a multi-exclusive provider for quartz and quartzite surfaces in select markets for an additional three years.
ABC Supply donated more than $3 million to Homes For Our Troops. Allied Building Material Agency had rebranded as Green Tree Risk Partners.
Builders FirstSource raised more than $1.2 million for The Leukemia & Lymphoma Society at its annual Swing for the Cure golf charity event.
Cameron Ashley Building Products expanded its distribution partnership with LP Building Solutions.
Simpson Strong-Tie acquired certain assets of Arlington, Texas-based PIERESEARCH, LLP.
May 31
Simpson Strong-Tie and MOSO North America, a brand in bamboo building products, partnered on products and software to enable customers to plan and design their deck projects with Simpson Strong-Tie Deck Planner Software.
Tropical Forest Products partnered with Logan Lumber Company to distribute Black Label brand of Ipe and other tropical hardwoods.
Exceler Building Solutions opened a 180,000 square foot Hazelton, Pa., manufacturing facility. KYOCERA SENCO Industrial Tools announced the opening of its official global headquarters in Cincinnati, Ohio.
84 Lumber announced its sponsorship of the 2023 U.S. Capitol Christmas Tree.
CertainTeed installed a smart water submetering system and upgraded equipment at its siding plant in Jackson, Mich.
May 24
May 17
May 10
Pella Corporation announced plans to expand its capabilities in Florida with the acquisition of window and door manufacturer Lawson Industries.
Laminators Incorporated released a newly redesigned website.
Wolf Home Products expanded its partnership with Key-Link Fencing & Railing, a manufacturer of aluminum rail and fence systems for residential and commercial installations, into select midwestern states.
Associated Materials opened three Alside supply centers throughout the country. The new locations include a 20,000-square-foot facility in Conway, S.C., a 63,200-square-foot building in Greensboro, N.C., and a 20,000-square-foot supply center in San Antonio.
May 3
Structurlam Mass Timber Corporation entered into a stalking horse asset purchase agreement with Mercer International to sell substantially the company's assets in British Columbia and Arkansas for $60 million.
Metrie entered a definitive agreement for the acquisition of certain assets of Anderco Inc., a manufacturer and distributor of doors and door frames, based in Fullerton, Calif.
PGT Innovations unveiled new branding for its PGT Custom Windows and Doors brand. BlueTape partnered with Miami-based flooring distributor CPF Floors.
The Home Depot Rental has opened 37 new Rental Centers since January 2023, with locations in California, New Hampshire, Florida, Kentucky, Texas, and West Virginia.
To celebrate Military Appreciation Month, 84 Lumber will host catered dinners across the country for military and veteran families at various Fisher House locations.
Manufacturers Reserve Supply is now distributing American Pro Porch Flooring.
April 26
MoistureShield is partnering with J.M. Thomas Forest Products to expand distribution of the manufacturer's full composite decking portfolio at branch locations in Ogden, Utah; Denver, Co.; and Boise, Idaho.
SRS Distribution earned the designation of VETS Indexes 4 Star Employer. The award recognizes the organization's commitment to recruiting, hiring, retaining, developing, and supporting veterans and the military-connected community.
LP Building Solutions and Forex entered into a definitive agreement under which LP will acquire the assets owned by Wawa OSB Inc., a subsidiary of Forex.
Pennsylvania Lumbermens Mutual Insurance Company raised over $140,000 for childhood cancer research during their head-shaving fundraiser benefiting the St. Baldrick's Foundation.
BlueLinx Holdings and Allura expanded their distribution partnership. The expansion includes Allura's branded Spectrum Prefinished Siding, Trim, and Accesories as well as Allura's primed offerings in panels, trim, soffit, shake, and backerboard. The expanded partnership extends the distribution into St. Louis, Springfield, Mo., Kansas City, Mo., Little Rock, Ark., Tulsa, Okla., and Oklahoma City, Okla.
Hillman Solutions Corp. opened a 305,000 square foot distribution facility in Belton, Mo.
April 19
The Home Depot awarded 36 Historically Black Colleges and Universities with more than $2 million in grants to improve their college campuses in the 14th year of the retailer's Retool Your School program.
Dalco Industries is the official representative for The Bilco Company in Montana, western North Dakota, and western South Dakota.
US LBM will be featured on an upcoming episode of Military Makeover: Operation Career, a television series that highlights employers that provide rewarding career opportunities for veterans of the armed forces.
LP Building Solutions produced its first run of LP SmartSide products at its Sagola, Mich., facility.
THOR Kitchen expanded its direct-to-dealer distribution channels in the East coast, New England, and Mid-Atlantic regions.
Walker Brothers Hardware in Georgetown, S.C., celebrated its grand opening.
Roseburg Forest Products announced a planned investment of $700 million over the next four years to upgrade and expand its manufacturing operations in southern Oregon.
Feldco Windows, Siding, Doors & Roofing is moving its corporate office to Rosemont, Ill.
Jeld-Wen Holding entered a definitive sale agreement with Platinum Equity to sell 100% of the business for approximately $688 million Australian dollars (US$461 million).
April 12
J.M. Huber Corporation donated $500,000 to the Gary Sinise Foundation to fund their Empowerment Workshops program for surviving spouses and children of fallen soldiers.
DMSi Software acquired Millwork Development, a provider of e-catalog and configurator solutions.
Evansville, Ill.-based Lensing Building Specialties celebrated its 75th business anniversary.
Building materials supplier Ambassador Supply announced a strategic partnership with Brooksville, Fla.-based engineered wood products provider Hitek Truss.
ODL has acquired Tru Tech Doors of Ontario, Canada. Tando Composites announced Arnold Lumber Company has become a flagship dealer for Beach House Shake.
April 5
The Vinyl Sustainability Council welcomed IB Roof Systems as the council's newest member.
Deck and dock product manufacturer Endeck launched a new website.
ABC Supply was recognized for a Gallup Exceptional Workplace Award for the 17th consecutive year.
True Value Company purchased the assets of Nova Wildcat Shur-Line Holdings, including the Shur-Line and WorldLock range of products.
Do it Best coordinated a donation of nearly $1 million in home improvement products to the West Orange Habitat for Humanity in Orlando, Fla.
Woodgrain announced Huttig Building Products will be re-bannered, operate as Woodgrain, and join the company's distribution division, effective April 1.
Westlake Royal Building Products launched Westlake Royal PROS Perks, a contractor loyalty program for new and existing customers.