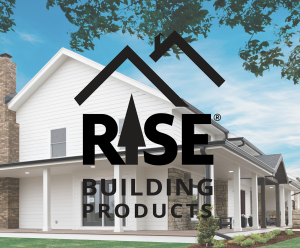 Palmer-Donavin is adding synthetic wood siding and trim products from RISE Building Products to their exterior offering.
"We are committed to the exterior cladding category and excited about the products from RISE that will fill a void in our offering," Matt Butzier, COO at Palmer-Donavin, said in a news release. "RISE features post-consumer and post-industrial synthetic fiber as a core ingredient making it incredibly durable in all climates. It is this technology that also makes RISE sustainable as it repurposes these fibers instead of filling our landfills."
RISE Building Products offers synthetic fiber siding and trim, embossed with a realistic woodgrain that utilizes patented synthetic fiber technology. RISE Siding is offered in 20-foot lengths and is offered in primed and 10 finished colors. RISE Trim is offered in all standard sizes to complete the siding application and comes in both primed and Porcelain White colors. Palmer-Donavin is stocking all ten siding color options in 20-foot lengths and two trim options in 13 foot lengths.
"We are pleased Palmer-Donavin is now a distributor partner. From inception, we have been meticulous in our approach to onboarding distribution and have worked hard to get the best distributor in each reach of the country," Joe Bliss, director of sales at RISE Building Products, said. "Palmer-Donavin is well-respected, exceptionally successful in the Midwest, and they have been on a strong growth trajectory. We look forward to RISE contributing to their continued long-term growth strategy."
Columbus, Ohio-based Palmer-Donavin is a distributor of building materials and a door fabricator with eight locations throughout the midwest servicing dealers in 11 states.