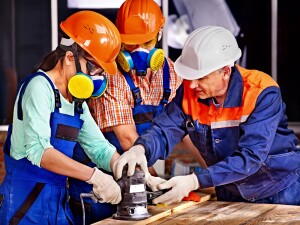 While there continues to be a high demand for construction labor, a worker shortage has made it difficult for industry businesses to find qualified employees. The skilled labor shortage has a compounding effect of creating an aging workforce. In Oklahoma, the share of construction industry workers over the age of 55 increased from 14% in 2001 to 29% in 2019, according to data from the Oklahoma Employment Security Commission. Recognizing the importance of addressing the labor shortage, the state of Oklahoma is taking several steps to make the trades more attractive for younger individuals, The Oklahoman reports.
To attract employees, wages are increasing and benefits are becoming more competitive, said Bobby Stem, executive director of the Association of Oklahoma General Contractors. Average weekly earnings have increased from about $750 in 2007 to roughly $1,050 in 2019, data from Oklahoma Employment Security Commission shows.
The state's 29 technology centers with 58 total campuses are one of the primary drivers of educating skilled workers, Ric Russell, technical programs supervisor for the state's Department of Career and Technology Education, or CareerTech, said. Programming includes cost-effective opportunities for adults to learn skills and gain credentials, as well as creating a pipeline for high school students to jump start careers for free. And the system is working to reach even younger students to increase awareness of the different careers and pathways available. Classes for electrical, HVAC and other trades are usually full, according to CareerTech enrollment numbers.
The state is backing these efforts and promoting increased partnerships through various initiatives, but Russell said true transformations will require buy-in from industry leaders and expanded funding to increase class offerings.
"It's like anything else—you have to get the word out and get the right people interested in the problem and the solutions," Russell said. "That means bringing it up to the focus of our legislators and local leaders so they know there is this common problem that needs to be addressed before it gets out of hand. I would hate to see us have to hire folks out of Texas to be able to do work in Oklahoma."
Read More