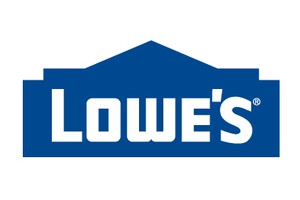 Despite lumber deflation and unfavorable weather conditions during the quarter, home-improvement retailer Lowe's delivered positive comparable pro sales in the fiscal first quarter. At the end of the quarter, Lowe's said pro customers represented 25% of its business, while DIY sales represented 75% of sales.
"We continue to build momentum with the pro through our MVPs Pro Rewards program and our expanded assortment of Pro national brands," president and CEO Marvin Ellison said during the Lowe's first quarter earnings call. "This positive comp in the pro builds on top of a 22% U.S. pro comp in the first quarter of last year.
During the quarter, executive vice president of stores Joe McFarland said Lowe's launched Lowe's MVPs Business Tools, the latest enhancement to the MVPs Pro Rewards program. Online survey responses indicated pros shopping at Lowe's would welcome time-saving tools that help them shop quickly and minimize time away from job sites. Additionally, pros indicated spending "a lot of time" building quotes and checking order status, according to McFarland.
"To solve both needs, we launched a suite of tools on Lowes.com and our mobile app that make it easy for pros to manage their orders from anywhere, whether that's on the job site, at home or out of town," McFarland said on the earnings call. "It automatically applies to their volume savings pricing and discounts and lets them quickly download a PDF quote for their customers. They can also use order tracking to track the status of the order throughout the fulfillment process."
While the tool just launched in April, McFarland said Lowe's has already seen a "better-than-expected" adoption rate and sales growth. The company expects the tool to accelerate future pro growth as customers discover additional features. McFarland said the Lowe's pro loyalty program has helped improve customer satisfaction 200 basis points compared to the first quarter of 2022.
"As our CRM tool matures, we are using data insights to identify trends that can improve our marketing and sales strategy, including tailoring our offerings by trade and by tier," McFarland said. "In our April survey, over 75% of pros continue to say their backlogs are healthy. While the pro backlogs remain consistent with recent quarters, pros did report a shift to smaller project sizes."
Perpetual Productivity Improvement
During the call, McFarland highlighted progress on several perpetual productivity improvement (PPI) initiatives in the first quarter. As part of an effort to modernize technology across all store locations, Lowe's began "rapidly replacing" legacy self-checkout systems with proprietary self-checkout registers and matured a new store inventory management system to improve inventory visibility and operational efficiency.
"[The store inventory management system] fully integrates with the mobile apps, reducing the time both associates and customers spend searching for product," McFarland said. "We also continue to enhance our pick up in store experience to streamline processes and enhanced technology. These improvements drove faster fulfillment and a 400 basis point increase in pickup in store customer satisfaction scores in the first quarter."
Quarterly Results
During the fiscal first quarter, Lowe's reported net earnings of $2.3 billion and total sales of $22.3 billion. Comparable sales decreased 4.3% compared to the prior-year period, according to the company.
Comp average ticket during the quarter decreased 0.3%, driven by lumber deflation. Comp transactions declined 4% due to the delayed start of spring and lower-than-expected DIY discretionary sales, according to executive vice president and chief financial officer Brandon Sink. Five of 14 merchandising categories experienced positive growth in the first quarter: building materials, rough plumbing, paint, hardware, and appliances. Online sales increased 6% year-over-year in the first quarter, supported by an increase in pro sales, according to Ellison.
Ellison said the company continued to roll out market delivery models to help the supply chain, bringing Lowe's to 12 geographic regions across the country, supporting more than 1,100 stores.