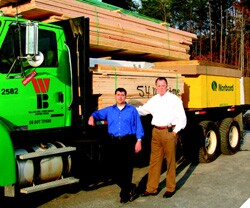 Could The Home Depot have finally figured out the pro market? A flash presentation on the Atlanta retailer's recently re-branded HD Supply division Web site that promises pros "what you need, where you need it, when you need it," suggests the company at least has the lingo down. Throw in a foundation-to-finish business model and $12 billion in projected 2006 pro sales from its pro-focused outlets and it's increasingly clear that the days of dismissing the big box as strictly DIY-centric are over.
While The Home Depot's previous attempts for pro dollars mainly involved installing contractor desks at its retail locations, the emerging HD Supply model focuses on taking acquired locations that have long-standing pro-focused reputations and arming them with the back-end support to grow in size and scope.
"There is a perception that as we go into the pro space that we are somehow consumerizing and dumbing down the model for the pro, and that is certainly not the case," says Steve LeClair, who succeeded retiring Jerry Johnson on Oct. 24 as president of the HD Supply lumber and building materials division. LeClair and others at HD Supply are quick to explain that the division will operate in the pro market entirely separate from the retail-focused warehouse stores that The Home Depot is traditionally known for. "We benefit a great deal from some of the backroom synergies that you would expect from being a part of The Home Depot," including access to $60 billion in purchasing power, "but how we approach the customer or the service levels is entirely independent from the retail side."
As it re-brands Williams Bros. and other acquired companies under one banner, HD Supply is undergoing a changing of the guard as Steve LeClair (left) takes over the LBM division from a retiring Jerry Johnson (right).
The entity now called HD Supply has been built through nearly three dozen acquisitions since 1997, most notably Williams Bros. Lumber, Cox Lumber, Hughes Supply, and White Cap Construction Supply. Those corporate names continued even as the companies moved under The Home Depot Supply umbrella, but that changed on Sept. 25 when the company announced that each of its 33 operating units would be reorganized into one of 12 primary product and service platforms doing business under the HD Supply banner. Williams Bros. and Cox, for instance, will change their names to HD Supply Lumber and Building Materials, while Hughes Plumbing will become HD Supply Plumbing and HVAC. White Cap will eventually transition to HD Supply Construction Supply.
Within the next 24 months, all logo apparel, signage, Web pages, and rolling stock will be redesigned to reflect a unified HD Supply look and feel, says company vice president of marketing and communications Arleen Quiñones Llerandi, who also served as vice president of investor relations for Hughes. "You had a myriad of strong brands and great companies, clearly the reason that HD Supply bought them," Llerandi explains. "But it was a little confusing to the customer, confusing to the associates, confusing to the market in general, so it was important to unify those businesses under a common brand."