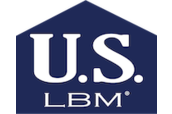 Specialty building products distributor US LBM acquired Tri-County Building Supplies, the company's third acquisition since the beginning of November. Building materials distributor Tri-County Building Supplies operates five locations in southern New Jersey, including a 14-acre flagship location in Pleasantville, N.J., that includes a showroom and 60,000 square feet of warehouse space. The company provides lumber and specialty building materials, including roofing, siding, wallboard, insulation, millwork, hardware, cabinetry, interior and exterior doors, windows, and stair rail installation
The newly acquired Tri-County Building Supplies will now operate as part of US LBM's Universal Supply Company, which has more than 20 locations across New Jersey, Connecticut, Maryland, and Delaware. US LBM's other operations in New Jersey include Feldman Lumber and Direct Cabinet Sales.
"Universal Supply Company and Tri-County Building Supplies have complementary operating models and share the same principles of providing superior customer service and a wide catalog of products to building professionals," US LBM chief development officer and Universal Supply president Jeff Umosella said in a news release. "We're pleased to welcome the Tri-County team to Universal Supply and the greater US LBM network."
US LBM recently opened a greenfield location under the Universal Supply brand name in Yeadon, Pa., and announced plans to open a future Universal Supply greenfield location in New Castle, Del., in 2021.
The acquisition of Tri-County Building Supplies follows US LBM's acquisition of Ridgefield Supply Company in December and Zeeland Lumber, the 48th largest firm on the 2020 ProSales 100 list, in November. Also in November, US LBM signed a definitive agreement to be acquired by Bain Capital Private Equity.
Buffalo Grove, Ill.-based US LBM ranked 6th on the 2020 ProSales 100 and operates more than 250 locations across the United States. The distributor offers a portfolio of specialty products, including windows, doors, millwork, wallboard, roofing, siding, engineered components, and cabinetry.