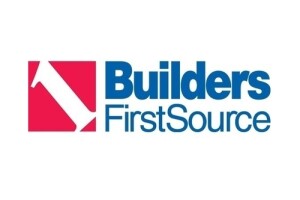 Declining single-family starts and commodity deflation contributed in part to a decreased level of net sales in the fiscal first quarter for Builders FirstSource (BFS). The dealer also reported lower levels of net income and adjusted EBITDA, but improved its gross profit margin percentage in the first quarter.
"We are proud of our results for the first quarter given the challenging macro backdrop. We were able to exceed our forecasts through the strength of our product portfolio, continued execution of our strategic priorities, and the tireless effort of our team members," Dave Rush, CEO of BFS, said in a prepared statement. "Our continued investments in value-added products, productivity initiatives, and digital solutions all work to reduce cycle times and costs, making home building more affordable and efficient."
Net sales during the first quarter decreased 31.6% on a year-over-year basis to $3.9 billion. Core organic sales in value-added products decreased 16.9% year-over-year in the quarter and core organic sales for the single family sector declined 34.1%. Core organic sales in the multifamily sector and repair and remodel sector both increased year-over-year, rising 11.5% and 3.1%, respectively.
Gross profit in the first quarter for BFS declined 25.2% to $1.4 billion, but the gross margin percentage increased 300 basis points to 35.3%. The improvement in margin was primarily attributed to increased multifamily value-added product category mix, according to the dealer.
Net income in the quarter fell to $333.8 million from $639.6 million the prior-year period.
"In addition to our focus on profitable organic growth and improving mix, we remain committed to growing through accretive acquisitions," Rush said. "Our recent tuck-in acquisitions allow us to further expand our value-added offerings and reach a more diverse customer base in what we consider to be very attractive markets."
BFS reported adjusted EBITDA decreased 36.9% year-over-year to $631.7 million, driven by lower net sales, including a decline in core organic products amid a slowing housing market. Adjusted EBITDA margin fell by 130 basis points from the prior year period to 16.3% in the first quarter.