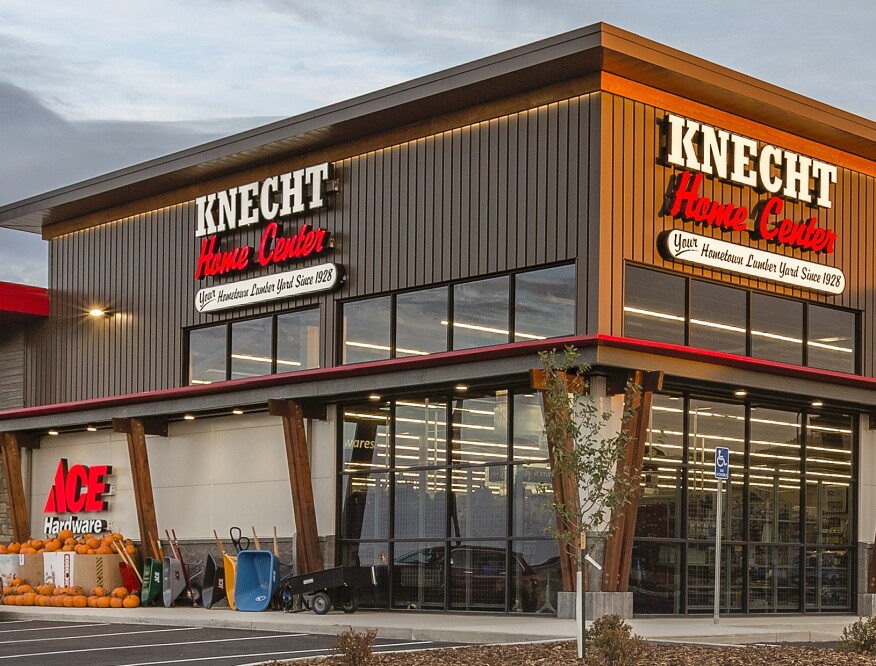 There's nothing like a big parcel of land to get a person dreaming.
Knecht Home Center, part of Mead Lumber, had some big dreams and a long wish list when it bought a 9.75-acre parcel just a few blocks away from its then lumberyard in Spearfish, S.D. "When that lot became available five years ago, we just bought it and knew we would be moving," says Bryan Rice, Knecht's regional manager and Mead Lumber's vice president of sales and marketing.
The resulting 74,000-square-foot facility built on 8 acres of the original parcel won the 2019 ProSales Excellence Award for facility design. The award acknowledges the home center for its thoughtful layout inside and out that blends function with the beauty of its surroundings, and incorporated input from both customers and employees. In the year since the location's grand opening (on Oct. 1, 2018), retail sales have increased by around 35%, Rice says.
The old facility, stuffed to the gills on 2.5 acres and lacking a drive-through lumberyard, needed more space to serve the needs of its customers in the northern Black Hills of western South Dakota. The town itself has a population of around 15,000, and attracts retirees and vacationers who choose the area to build a second home.
As executives considered the site for the new facility, they carefully assessed their needs, toured facilities both inside and outside the Mead umbrella, canvassed their customers for suggestions, and invited employees to weigh in. "Before we went to the architect, we did a conceptual drawing, put the whole rendering out on the bulletin board, and told employees, 'This is your store, and gosh, we would love to hear from you.'"
And hear they did. "We got some great stuff," Rice says. Like, " 'Gee Bryan, I gotta have three or four more feet here in electrical, or I can't get all my stuff in here.' Or, 'Hey Bryan, I sold $1 million dollars of paint last year, show me a little love.' "
Incorporating the feedback they received, management then took the concept and rendering to local architect Jason Roberdeau of Williams & Associates Architecture, who spearheaded the final design and construction of the new facility.
While functionality was key, the team paid plenty of attention to aesthetics. Rice wanted the building to showcase the natural beauty of the northern Black Hills, so the designers used a lot of glass to bring in light and views. They also wanted to highlight the warmth and beauty of wood and natural elements, and that is reflected in the use of the interior wood trusses in the building's 18-foot ceiling, a feature that Rice and his team especially wanted to use. On the west side of the building there is a gable entrance supported by massive timbers, which is in close proximity to the drive-through lumberyard and the yard's contractor sales team.
In both the store and the warehouses, the design team used images of Spearfish and nearby Deadwood and the Northern Hills to tell the story of the community.
The guiding tenet of the build was, "We need to become better for our customers, not just bigger," Rice says.
Because retail customers represent a healthy amount of the Spearfish center's business—Rice puts that figure at 35%—the Ace Hardware store embedded front and center in the new facility got a lot of love.
The retail store was a large part of the expansion, Rice says, and they gave a lot of thought and space to customers' wants and needs around electrical, hardware, housewares, paint, plumbing, tools, seasonal goods, and sundries. The Hillman fastener area alone, in an island design, comprises 7,500 individual items. Retail floor space increased by 50% over the old location, hard-line SKUs increased from 25,000 to over 32,000, and the store added 20 new product line assortments focusing on its contractor and project base.
Every part of the facility was planned as thoughtfully as the retail space. In the contractor and project sales area, a streetscape design is flanked by six generously sized sales and design offices showcasing exterior stone, siding, millwork, soffit, and roofing examples. Customers can use the offices to review plans and material lists with associates. Outside the offices, the project sales area features free-standing displays including doors and windows and decking.
The showroom, which is 33% larger than the old one, offers 12 kitchen layouts, plus a working kitchen and outdoor kitchen display, six baths, and a laundry area. There are three design offices that feature the home center's three leading cabinetry manufacturers' products, plus various countertop options. In addition, there are flooring, lighting, and working fireplace displays.
The extra acreage the new location provides also made it possible to add storage buildings, which house much of the staging lumber and sheet goods, and an expanded receiving yard and delivery area. A 7,500-square-foot courtyard incorporates landscaping and seasonal projects materials as well as storage sheds, greenhouses, and fencing. There is even a bulk propane station.
These efforts suggest that, for Knecht, it's not only about dreaming big, it's also about dreaming better.