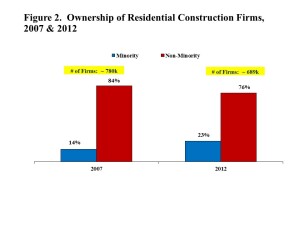 While the overall number of residential construction firms has dropped since 2007, the share of these businesses owned by minorities rose from 14% to 23%, according to NAHB Eye on Housing's Rose Quint.
In 2007, 14% of the roughly 780,000 residential construction firms that existed were owned by minorities, while 84% were owned by non-minorities. By 2012, the industry had changed: of the 689,000 firms still standing, the share owned by minorities had risen to 23% while the share owned by non-minorities had fallen to 76%.
The results were dramatically different by type of firm.
Whereas the actual number of minority-owned firms with paid employees was up only a slight 5%, the number of minority-owned firms without payroll increased an impressive 49%. Meanwhile, the number of non-minority owned firms with and without paid employees both declined during this period, by 20% and 18%, respectively.

Read more >