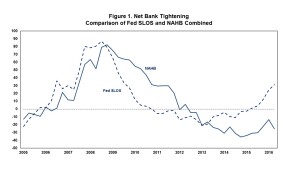 The NAHB's Survey on Acquisition, Development, & Construction Financing, credit standards had eased in 2Q 2016 from 1Q 2016.
According to Michael Neal, reporting for NAHB's Eye on Housing, 25% of respondents said credit conditions were easier in 2Q 2016, whereas only 13.3% of respondents reported easing credit conditions in 1Q 2016. "However, the net share of respondents reporting that lending conditions have eased in the second quarter of 2016 is lower than the net share reporting easier standards at the same time in 2015, 30.7%," Neal states.
Yet, while NAHB reports an easing in credit standards, findings from the Federal Reserve Board disagrees:
The Federal Reserve Board also tracks lending standards on AD&C lending. In contrast to the NAHB results, the Federal Reserve Board's Senior Loan Officer Opinion Survey (Fed SLOS) indicates that lending standards continue to tighten. As illustrated by Figure 1 above, lending conditions reported by the Federal Reserve Board began to tighten on net in the second quarter of 2015 and has remained tight in successive quarters.
Given the recent divergence of the two indexes it is important to understand the similarities and differences between them. Although both the NAHB's Survey on AD&C Financing and the Fed SLOS track AD&C lending conditions, the Fed survey includes commercial real estate lending excluded from the NAHB measure, most importantly nonresidential construction loans. Illuminating the significance of this difference, summary statistics on the outstanding amount of AD&C loans provided by the Federal Deposit Insurance Corporation (FDIC) indicate that home building construction loans are the smaller portion of all AD&C loans on bank balance sheets ... The inclusion of nonresidential construction loans in the Fed's index and their dominant size over residential construction loans is likely an important factor in the recent divergence.
For more information about the difference's between the NAHB and Fed SLOS findings, follow the link below.
Read more >