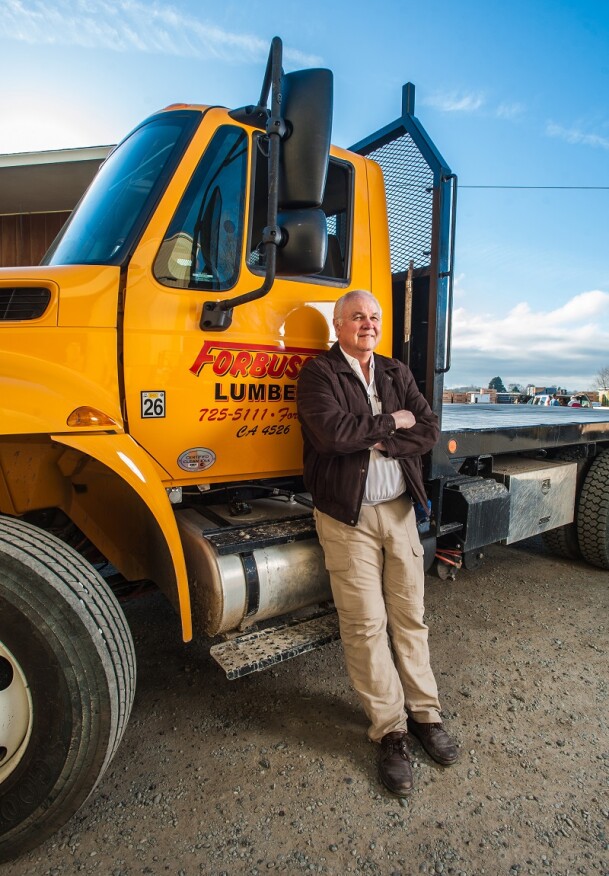 Fortuna not only is a neighbor to some of America's most famous Redwoods, it's the home of Forbusco Lumber, headed by 45-year industry veteran Craig Berry. Since taking over the company his father co-founded in 1946, Berry has outlasted four recessions, weathered shifting demographics, and survived a slew of state regulations. He's succeeded by following some essential business philosophies.
Road Blocks
It takes a lot more time to manage a company now than it did 10 or 20 years ago because of regulations. We had a bunch come into effect this year. The big [regulation] right now is focused on air quality and emissions for diesel trucks. Five years ago, you would see trucks 30 or 40 years old going up and down the road. Now they are gone. The guys out here are paying $50,000 for a pickup and way more for bigger trucks. You either have to borrow money or take it out of your pocket.
Time Is Money
If you don't have a routine, you're in trouble. I have been involved in the ownership of several corporations and have found that one has lots of unplanned interruptions. Therefore, it is best for me to manage my time early in the day. If this doesn't happen, things don't run smoothly.
Back to the Future
I could see the recession coming, so we prepared for it. My crystal ball is somewhat cloudy now. We know that the demographics and the preferences of households will be making major changes. How long will younger persons be skittish about ownership versus renting? I don't think anyone knows.
Helping Hand
It is rewarding to see employees improve their skills handling building materials. We all like to help the community and help the builders. If we can be here and offer advice, then we are doing our job.—As told to Erin Ansley