Jay Short says he used to cuss up a storm whenever a customer strolled into Short & Paulk Supply Co. with a copy of Southern Living magazine. Seeing the bible of Dixie design was a sure sign that a staffer would be tasked with searching for products the south Georgia dealer didn't stock and would have a devil of a time trying to source. In those days more than a decade ago, Short & Paulk got 90% of its sales from pros and regarded the contractor as the key chooser of all products.
Then came the Great Recession, which cut Short & Paulk's revenue in half. Like lots of dealers did then, Short & Paulk resumed soliciting retail trade. Unlike a lot of dealers, it continues to do so even as home construction has rebounded—and in doing so, it has become a role model for marketing on a shoestring budget.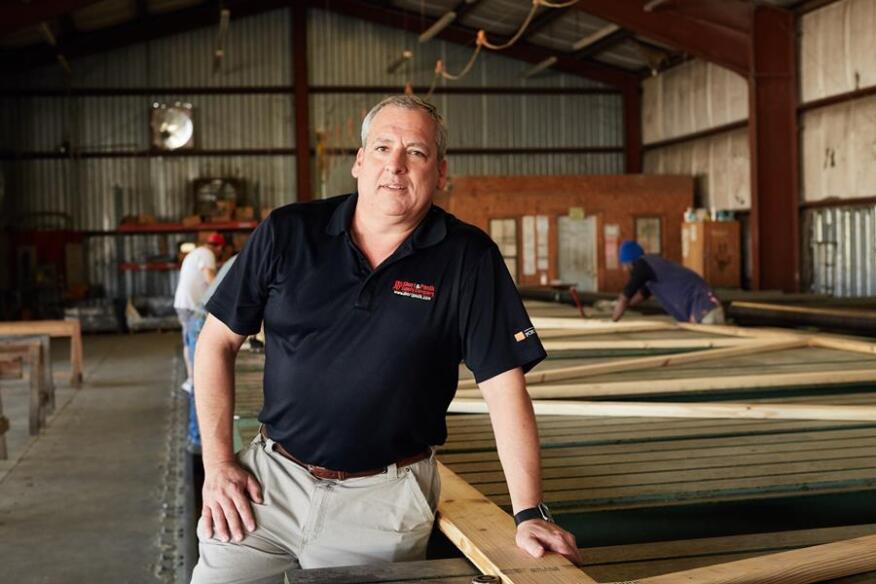 You could pooh-pooh the retail push given consumers provide just 35% of revenues for the five-yard, $17 million operation, but Short says that paying attention to retail leads to more sales with builders. "If we can help people with a small project, like painting the baby's room, if we can earn their trust and build that relationship, [then for things] that they can't do, like building a deck, they're coming to us and asking for a referral to our contractors," Short says. "And if I provide a reference, we'll have a 90% chance of getting the business from that contractor."
As a result, "marketing has gone away from everything being toward the builder," he says. "A lot of times the builder isn't making the final decision—the homeowner is."
That notion drove much of the marketing Short & Paulk engaged in to celebrate its 75th anniversary. And we say "drove" literally, because one highlight of that campaign is the giveaway of a new car. The promo, which started in May and is slated to end on Dec. 16 with the winner's selection, helps bring customers into the store and onto Short & Paulk's website so they can register. That gives Short & Paulk a slew of email addresses to use for future promotions.
Thinking digitally might seem unusual for a dealer based in a rural region far from big cities, but Jay Short belies that image. "I tell people I'm the high-tech redneck," he says, and he can give several examples why:

Text "Build" to 84444 and Short & Paulk will reply with a registration form for its car giveaway. Text "Join" to the same number and you get to be part of a club in which Short & Paulk sends out early notifications regarding its promotions, plus news of online-only specials.
Short & Paulk uses Facebook, Houzz, LinkedIn, and Twitter to help promote itself. Recently it loaded a truck with cast-off building products, parked it along the route for a 100-mile yard sale, and advertised what it had done on Facebook. The notice got 2,800 responses, and Short & Paulk sold $5,000 worth of goods in four hours. Given that most of those materials were written off, that $5,000 from the yard sale "was better than selling $20,000 in a store," he says.
Short has become skilled in "geo-fencing," the art of selecting a geographical territory in which it arranges for its ads to appear on the smartphones of people who enter that area. Recently, it began promoting its kitchen cabinets service in a middle-class neighborhood with homes that are 10 to 20 years old—the age in which many homeowners think of a kitchen revamp. It also has geo-fenced an area around a competitor, encouraging people to think of Short & Paulk when they are near the dealer's rival.
Short pays attention to who likes and shares his Facebook posts. One recent $50 boost of a post generated 10,000 views, 92 likes, and 28 shares. Short noticed that all the shares were by females—his target group. "If I click on the 'like' and it shows me who liked it, I then can invite them to like our Facebook page," he notes.
Short & Paulk has set up systems to send new ads to people who responded to past mobile ads.
The company has a blog, and digital circulars are posted on shortpaulk.com.
Email messages go out to 7,000 customers regularly.
All television advertising again reaches out to the consumer, but it's project-oriented stuff that just about always is done by contractors. The ads thus are meant to generate interest in the project, and ultimately a request to Short & Paulk to suggest a contractor.
Short & Paulk used to think there was a future in using its website as an online store. That didn't work. Now Short uses it as a way to deliver information. "I think about 70% to 80% of decisions are influenced by the internet," he says.
In-store events and advertising help the dealer promote niche products that aren't as margin-sensitive as commodities. "As a result, we have seen steady sales and margin growth on specialty products like Solarbord radiant sheathing, Huber Zip, Trex, Velux skylights, trusses & engineered lumber, installed cabinets, and many more," Short wrote in his Excellence Award application.
All of this comes on a budget that totals less than a half percent of sales, along with extra help from marketing co-op money, rebates, and discretionary marketing funds.
Short's experience with mobile ads only dates back to June, so he views each campaign as an opportunity to learn. "Let's throw a little bit of spaghetti up on the wall and see if it sticks" is his philosophy, he says. "We're not scared to try something new."
Short cautions that if you still are a total pro yard, you needn't study his ideas. "But lots of dealers have a showroom," he notes. "There's a lot of opportunity in using Facebook, some of the social media like Houzz, to get people into your showroom. And if I get them in, I've got the opportunity."